NATURAL GAS IN INDUSTRIAL SECTOR IN MALAYSIA
By Els Ee
Natural gas is abundant in Malaysia with deposits having been discovered in all three regions comprising Peninsular Malaysia, Sabah and Sarawak. The country's total natural gas reserves is 87.8 Tscf. At current production rates, the reserves should last for at least another 36 years. About 40 percent of Malaysia's energy needs today is being met by natural gas. Natural Gas become the most important and valuable resources to country in many sectors.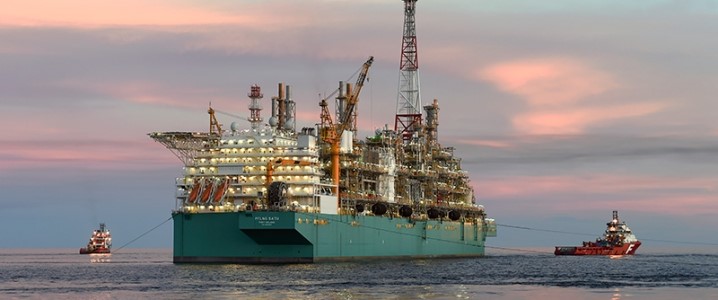 What is natural gas?
Natural gas is a naturally occurring hydrocarbon gas mixture consisting primarily of methane. It is colourless, odourless and flammable in its naturally occurring state. Its combustion does not produce ash residues, sulphur oxides, negligible nitrogen and the lowest CO2 emissions that are harmful to the environment. It is by far the 'cleanest' fossil fuels and is rapidly gaining ground over other fuels as an energy source for homes and industrial activities.
What is natural gas in industrial sector?
In the industrial sector, Natural Gas is very important nowadays and it is often used as a raw material for products such as hydrogen, fertilisers and plastics. In addition, It is also commonly used as an energy source for food processing, glass making steel fabrication and widely used to produce electricity via cogeneration and as a fuel for transport of people and goods. Other industries that utilize natural gas for their production process is like Ceramic industry and Rubber industry. Each of the industries have their own way and process in using natural gas for their production.
 Where natural gas delivered to & Who is in charge for the natural gas?
Natural gas will be deliver to industrial location (factory) based on the location consumers informed. Then, the person in charge for the gas supply or we know them as registered gas contractors will handle the installation of natural gas from the beginning until complete. Gas contractors need to be registered with the Energy Commission in compliance with Regulation 103 (Gas Supply Regulation 1997) in order to perform or carry out installing, constructing, testing, commissioning, calibrating, maintaining, repairing or operating a gas pipeline or gas installation.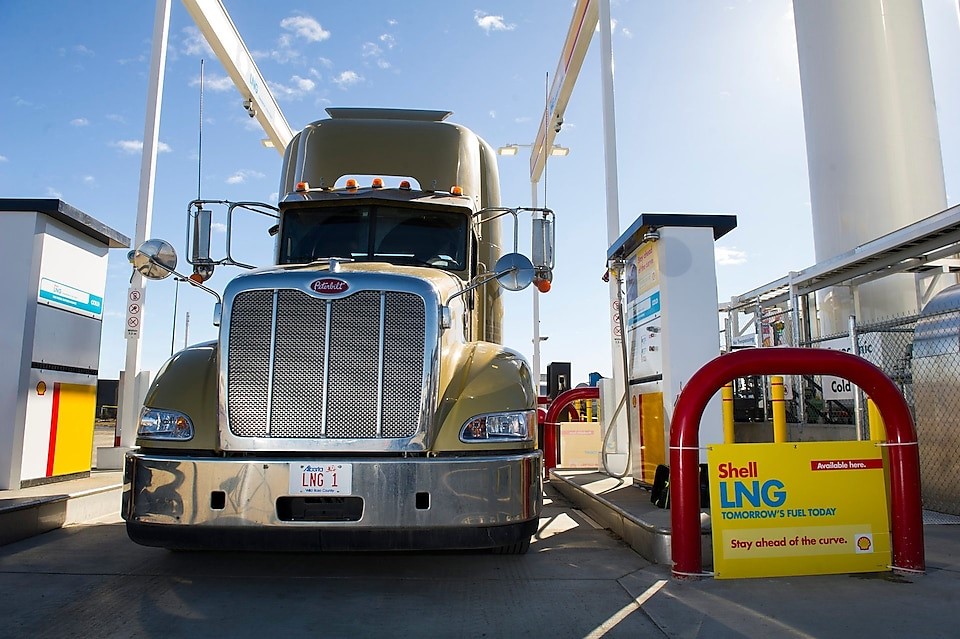 Sources: Shell Malaysia
 How is natural gas transported?
First method to deliver the natural gas is transported by using virtual pipeline network in order to send it to where it is needed. By using pipes, gas can be cost effectively transported over long distances as part of an integrated gas transport network. The development of such a "virtual" pipeline network can only be economically, safely and expediently achieved by the employment of the most advanced and reliable technologies. Industrial sector (factory) which did not have pipelines network in their area, they need to hire registered gas contractors from any supplier company to build natural gas pipeline in that area in order to get natural gas supply.
Second method that have been used for the first liquefied natural gas (LNG) is solution provider to use road trucks for off-grid customers in Peninsular Malaysia that introduced by Petronas Dagangan Bhd. Now they have the capability to deliver LNG using trucks fitted with cryogenic tanks, providing industries within Peninsular Malaysia that are not connected to the natural gas infrastructure with access to cleaner energy.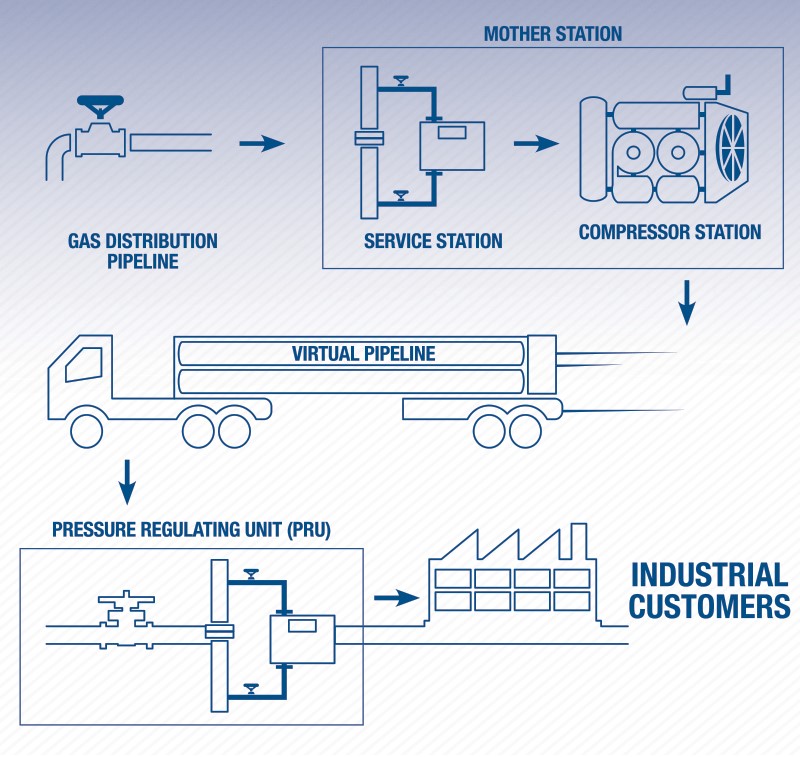 Virtual Pipeline System (VPS)
Source: Gas Malaysia
 Gas prices & tariff rates for natural gas?
The basis on which natural gas is sold and priced varies dramatically between global markets. As natural gas becomes an increasingly important source of energy, understanding of gas pricing concepts is crucial for energy producers, consumers, and regulators.
Gas Malaysia Bhd has obtained the government's nod to set the natural gas selling price at RM33.65 per million British thermal units (MMBtu) on 2020, which is RM1.01/MMBtu or 2.91% lower than the current rate of RM34.66/MMBtu. The government has issued a directive, via the energy commission, to effect the average natural gas selling price for the distribution segment by the group's wholly-owned unit, Gas Malaysia Energy and Services Sdn Bhd. The directive is for a period of two years beginning Jan 1, 2020 to Dec 31, 2021, with an annual review of such average natural gas selling price. This selling price revision is not applicable to sales of natural gas for natural gas vehicle and liquefied petroleum gas supplied in gas cylinder or in bulk supply.
Billing Period & Terms of Payment
Commercial and industrial customers are billed monthly for both Natural Gas and LPG. Payments have to be settled within 25 days from the billing date as specified on the gas bill.
Bill Estimations
An estimated bill will be issued based on your average usage, if the meter reader is not able to access your meter. Customers are required to provide Gas Malaysia with the exact meter reading upon receiving the estimate card to avoid incorrect billing.
The rates and tariffs for large commercial & industrial customers are subject to the volume of consumption per year in MMBtu.
The following table shows the tariff and rates effective 1 January 2020 – 31 December 2020:
Source: Gas Malaysia
What is Gas contracts?
Gas sales agreements
The pipeline gas sales agreement (GSA) is also known as a gas purchase agreement (GPA) or a gas sales and purchase agreement (GSPA). These agreements between a producing company or sales agent (seller) and a consuming company (buyer) usually cover a number of provisions.
The term of a GSA can be as short as one day or as long as the economic life of the field from which the gas is produced. Internationally, especially where a gas development project will have a limited number of potential customers, the terms could reach 20 or 30 years.
There are two distinct types of volume commitments contracts: depletion contracts and the more common supply contracts. Under depletion contracts, also called output contracts, the producing company dedicates the entire production from a particular field or reserve to a buyer. In contrast, supply contracts commit the seller to supply a fixed volume of gas to the buyer for fixed term, typically 20 to 25 years. The seller is responsible for sourcing the gas, either from its own reserves or from third parties, if its own reserves are inadequate to fulfill the obligations.
Gas must be priced at a level competitive with alternate fuels in the marketplace and provide an adequate return for all parties in the chain. Pricing may be fixed, fixed with escalators, or floating. A fixed price is a set negotiated price over the term of the contract and is usually found in shorter-term contracts. Floating price varies according to prices reported by unbiased sources, such as newspapers. In this case, the contracts are revalued every month or every week according to the reported prices. Prices, both fixed and floating, may also be limited to a maximum ceiling price or a minimum floor price for the term of the contract. Contracts may also have combinations of fixed and floating prices.
The terms of delivery may be firm or flexible. Firm delivery is producing company or seller to deliver the specified quantities over the term of the contract. If the delivery obligation is not fulfilled, the seller need to pay damages or cover the costs of alternate fuels used by the buyer. Flexible delivery obligates the producing company to make attempts to fulfill the delivery obligation but does not require fulfillment of all the delivery obligations.
This is the physical location where gas is delivered to the buyer. It could be at the gate of the power plant, the hub for a city grid, an interconnection of two pipeline systems, the site of a compressor, international border, or the fence of an LNG plant.
The GSA clearly states the quality of gas, including its maximum and minimum heating values (in Btu/MMcf units); maximum level of impurities like oxygen, CO2, SOx, and NOx; the delivery pressure; and water vapor content. If the seller delivers off-specification gas, buyers may be able to demand a discount.
Where is the areas of availability natural gas?
Natural gas in Malaysia having been discovered in all three regions comprising Peninsular Malaysia, Sabah and Sarawak. Natural gas resources are limited because it cannot get in all state in Peninsular Malaysia but only certain state have this resources.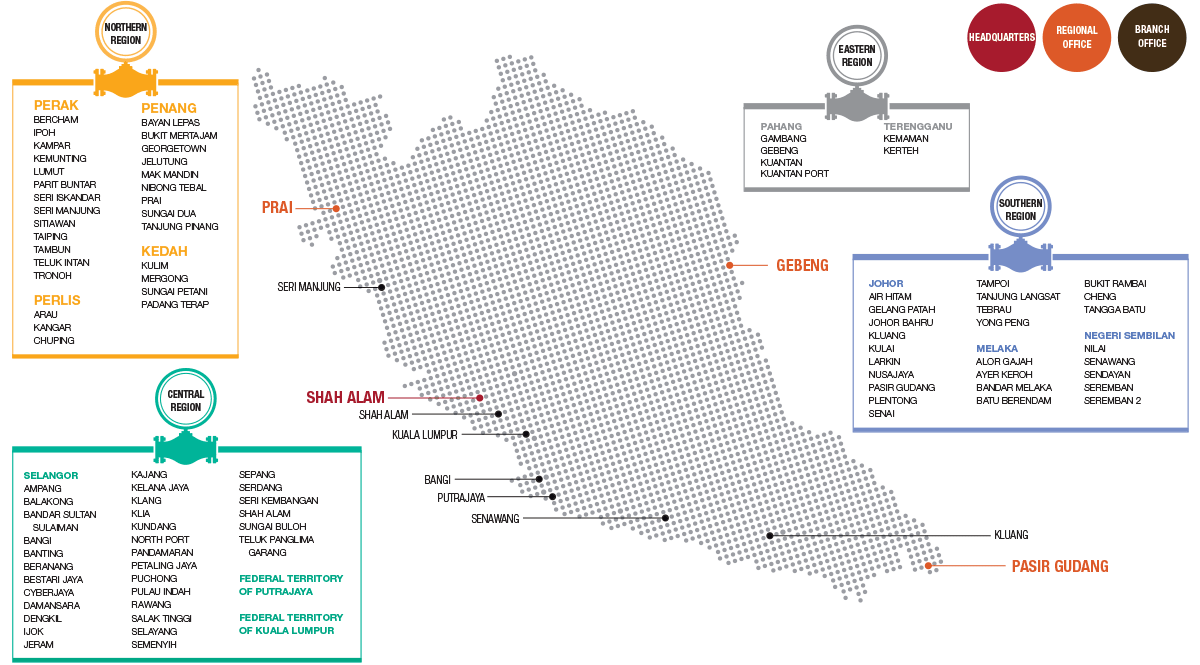 Source: Gas Malaysia
Advantages natural gas in industrial sector?
Our customers enjoy savings in energy costs, as Natural Gas is a premium fuel that is priced competitively.
Natural Gas offers higher fuel efficiency compared to other petroleum products and is easily controlled at the point of use.
Gas Malaysia supplies Natural Gas to businesses throughout Peninsular Malaysia via pipelines. Hence, there is no need for storage tanks. Our pipelines ensure stable supply of gas for you.
With no emission of soot or ash during combustion, contamination of end products are minimised, which indirectly relates to a higher return on investment for your business.
Natural Gas is lighter than air and easily disperses in the event of a gas leak. Hence, the probability of sparking off is remote, compared to heavier gases. For added security, a pungent odoriser known as mercaptan is added to forewarn users of any leakage.
Natural Gas is a clean, it emits minimal amounts of sulphur dioxide, nitrogen oxide and carbon dioxide. Moreover, ash or soot is not released upon combustion, thus preventing air contamination.
It is versatile. A gas-fired power station takes much less time to start and stop than a coal-fired plant. This flexibility makes natural gas a good partner to renewable energy sources like solar and wind power, which are only available when the sun shines and the wind blows.