i-Park Indahpura
Welcome To Johor's Most Innovative Industrial Development
Located in Kulaijaya – the thriving township of the future – I-Park@Indahpura is the ultimate clean and green industrial park that provides innovative solutions to fulfill your business needs. Comprising 104.84 acres of land, I-Park features semi-detached and detached factories with standard land sizes ranging from 19,966 sq.ft., 43,560 sq.ft., 87,120 sq.ft. and custom made sizes.
I-Park features a uniquely innovative clean and green concept that preserves the atmosphere and is environmentally friendly. Furthermore, I-Park also presents a green street concept in which lush landscaping and intelligently planned drainage systems optimizes the nature-friendly environment.
IPark Indahpura Industrial Property Kulaijaya in Johor Bahru. The idea of being able to live, work and play in a fantastic environment is the backbone of the superb infrastructure set up for you at Indahpura. The drudgery of daily commuting and rush hour frustration has been replaced by quick and easy access to their place of work, freeing up more time to enjoy quality family time and the many lifestyle offerings of the township.
From public amenities such as the Palm Resort Golf & Country Club, Le Grandeur Palm Resort Johor, IOI Palm Villa Golf & Country Resort, Johor Premium Outlets, Tesco Hypermarket, IOI Mall as well as Foon Yew High School and Kulai Hospital.
Indahpura is a dynamic environment that connects you to everything that matters therefore making it attractive to investors and professionals alike.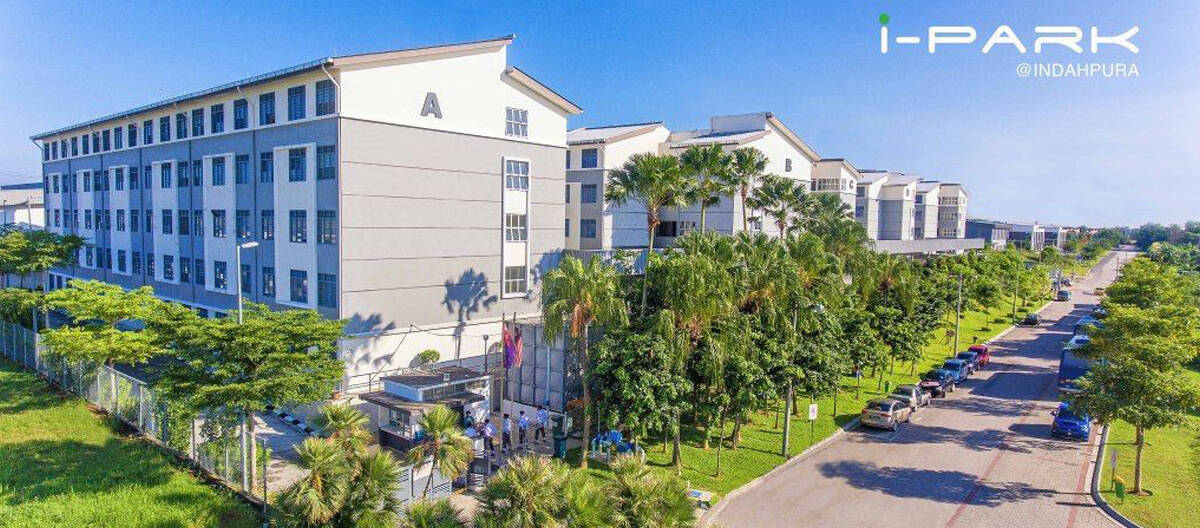 1 ACRE DETACHED FACTORY
• Factory height: 9m
• Production Area (Non Suspended Slab) : 20KN/m² (approximately), Office Area (level 2) : 2.5KN/m²
• Roof Structure: Structural Steel designed to BS 5950
• StandardRoof Sheets : Zincalume Metal Roof c/w 50mm thick fiberglass insulation• list item
• Rain Water Down Pipe : Exposed 150mm Ø UPVC pipe (Production Area), : Concealed 150mm Ø UPVC pipe (Office Area)
• Gutter : Stainless Steel Gutter
• Internal Wall : Pre-cast wall or 115mm thick common brick wall with plaster and painted with emulsion paint.
• External Wall : Pre-cast wall or 115mm thick common brick wall with plaster and painted with weather bond paint.
• Ground floor : 150mm thick G25 concrete with a layer of polythene sheet and BRC 7
2 ACRES DETACHED FACTORY
• Factory height: 9m
• Production Area (Non Suspended Slab) : 20KN/m² (approximately), Office Area (level 2) : 2.5KN/m²
• Roof Structure: Structural Steel designed to BS 5950
• StandardRoof Sheets : Zincalume Metal Roof c/w 50mm thick fiberglass insulation• list item
• Rain Water Down Pipe : Exposed 150mm Ø UPVC pipe (Production Area), : Concealed 150mm Ø UPVC pipe (Office Area)
• Gutter : Stainless Steel Gutter
• Internal Wall : Pre-cast wall or 115mm thick common brick wall with plaster and painted with emulsion paint.
• External Wall : Pre-cast wall or 115mm thick common brick wall with plaster and painted with weather bond paint.
• Ground floor : 150mm thick G25 concrete with a layer of polythene sheet and BRC 7
SEMI-DETACHED FACTORY
• Factory height : 9m
• Production Area (Non Suspended Slab) : 20KN/m² (approximately)
• Office Area : 2.5KN/m²
• Roof Structure : Structural Steel designed to BS 5950 Standard
• Roof Sheets : Zincalume Metal Roof c/w 50mm thick fiberglass insulation
• Rain Water Down Pipe : Exposed 150mm Ø UPVC pipe (Production Area),Concealed 150mm Ø UPVC pipe (Office Area)
• Gutter : Stainless Steel Gutter
• Internal Wall : Pre-cast wall or 115mm thick common brick wall with plaster and painted with emulsion paint.
• External Wall : Pre-cast wall or 115mm thick common brick wall with plaster and painted with weather bond paint.
• Ground floor : 150mm thick G25 concrete with a layer of polythene sheet and BRC 7
i-Park Indahpura is a dynamic environment that connects you to everything